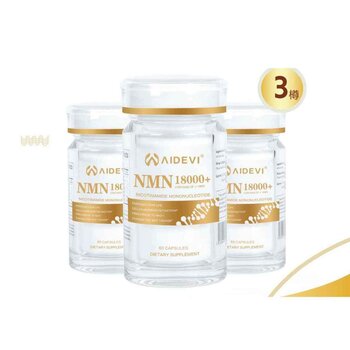 Aidevi NMN 18000 Plus Set 3 x 60 pcs
-The full name of NMN is Nicotinamide Mononucleotide (ß-nicotinamide mononucleotide), which is the precursor of NAD+ in the human body. As one gets older, the NAD+ level will gradually decrease, and the body cells will no longer effectively repair thedamaged DNA, resulting in the rapid aging of the body functions. -This item is not eligible for any promotion discount.Product will be shipped in 7-14 days separately. Other items ordered (if any) will be shipped out first.
100% GENUINE Products.
FREE SHIPPING by USPS. Delivery usually takes 5-10 days. If no one is home when the parcel is delivered it will be left at the post office for collection.

30 days money back guarantee. If there is any problems with the products please send us an email and we will provide a solution to you, guaranteed.
| | |
| --- | --- |
| Barcode/UPC | 145832870734870 |
| Category | Health |
| Brand | Aidevi |
| Product Line | |
| Size | 3 x 60 pcs |

We use PayPal to securely process payments including credit card payments.
Your purchase is protected by PayPal buyer protection. If you don't receive the products you ordered you can claim your money back.