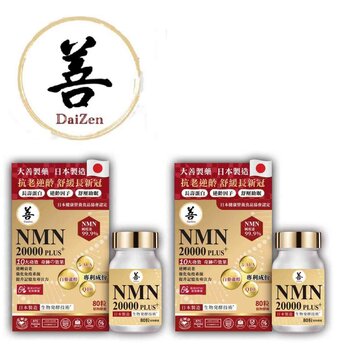 DAIZEN NMN20000 PLUS 80 capsules Set (2 Set) 2pcs
-Anti-aging NMN20000 PLUS+80capsules -Benifits: -DNA Repairing, Activate "Sirtuins" Delay Ageing ; Enhance Immunity ; Reduce fatigue of "Long COVID"
; Improve brain functions and memory Reduce free radicals ; Eye Protection ; Halt hair loss Speed up Hair growth ; Whitening Freckle ; Liver Health Support Reduce the accumulation of toxins and fats -Recommended Dosage (Adults):-Anti-aging & Health: Take 2 capsules daily or as instructed by a physician ; Speed Anti-aging: Take 2 capsules 2 times daily or as instructed by a physician -Cautions: -Stop consumption and seek medical advice immediately once feel uncomfortable. Patients taking medications or under medical conditions, please consult your physician before use. Please keep away from children and store in a cool, dry place, away from direct sunlight. ****The effects may vary from person to person and depend on different factors such as individual body conditions, age, and lifestyle habits.
100% GENUINE Products.
FREE SHIPPING by USPS. Delivery usually takes 5-10 days. If no one is home when the parcel is delivered it will be left at the post office for collection.

30 days money back guarantee. If there is any problems with the products please send us an email and we will provide a solution to you, guaranteed.
| | |
| --- | --- |
| Barcode/UPC | 145832855797870 |
| Category | Health |
| Brand | DAIZEN |
| Product Line | |
| Size | 2pcs |

We use PayPal to securely process payments including credit card payments.
Your purchase is protected by PayPal buyer protection. If you don't receive the products you ordered you can claim your money back.